A DIY Holiday Shutter Display to Delight the Neighborhood
At this most magical time of the year, when families gather around sumptuous feasts, loved ones bestow thoughtful gifts on one another, and those with extra blessings share their abundance with those less fortunate, there's something so cozy and comforting about a glimpse of warmth in the windows of your home. While many will festoon their roofs with lights and hang wreaths on their doors, we've dreamed up a window display craft perfectly suited for homes with interior shutters. Drawing on the inspiration of window cling silhouettes but using the shutters to add depth and a little extra magic, this window shutter silhouette craft adds a subtle dash of whimsy to any holiday display. Read on to learn how to create window shutter silhouettes of your favorite holiday scenes to delight your whole neighborhood this year.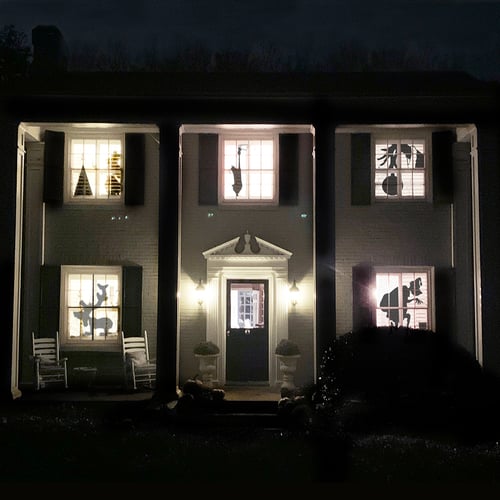 Supplies:
Paper or cloth
Black acrylic paint
Pencil
Tape measure
Scissors
Paint-safe tape or Command strips
Scotch tape
Images of holiday scenes sourced from online or download from our design library
A printer (optional)
Depending on the width and length of your shutters, you'll want to use either white paper or a lightweight piece of white fabric. We used a roll of art paper, like the type you'd see in a kindergarten art class, which allows for a seamless length of paper that is just wide enough for the shutters we used for this demonstration. You only need to cover the areas that are visible while the shutters are open, but if you prefer one large blank canvas, then a larger piece of fabric will likely be your best option rather than multiple strips of paper.
Step One: Measure Your Shutters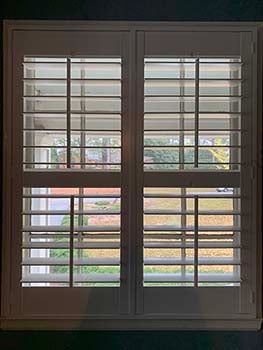 Measure the height and width of the open area of your shutters (where the louvers are). Add a few inches on the top and bottom depending on where you want to affix your paper or fabric*, and then add a little extra length so there's enough slack in the material for the louvers to open. *We recommend taping the material directly to the shutter panels just above and below the louvers so that you aren't trapping your shutters closed by taping it to the walls above and below the whole window (unless you don't plan on opening the shutters until after Christmas).
Step Two: Cut and Prep Your Material
If you're using a paper roll, cut strips for each shutter panel you'll be covering. For three windows with two panels each, we cut six strips off our paper roll. We cut them extra long and then trimmed any excess after we got them up on the shutters. If you're using fabric, you'll either need one piece large enough to tack up over the entire window, or one piece per panel like the paper strips.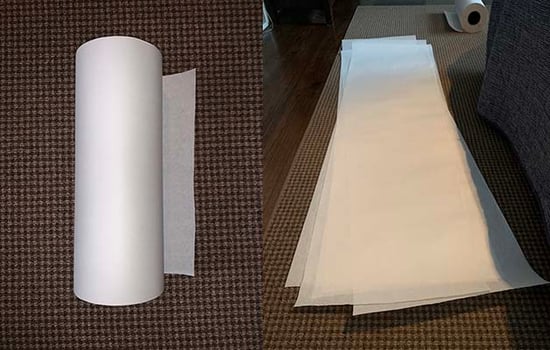 Test your material size by taping it up on one of your windows and adjust as needed to make sure it covers the open space between louvers while allowing you whatever access you need for opening the louvers and/or the shutters. Remember: taping the material to the walls above and below the window will mean you have to somewhat dismantle the silhouette display every time you want to open the shutter panels, so taping the material to the panels themselves will allow more access. Similarly, if you use one piece of material for the entire window, you won't be able to open the shutters without dismantling that, so using two separate pieces of material, one for each panel, will allow you to open the shutters.
Step Three: Prep Your Silhouette Design
Depending on how artistic you're feeling, you have a few options for this step. You can either

find images from favorite holiday stories that will be recognizable in silhouette and print them out to use as a reference as you free-hand draw on your material later, or you can enlarge an image from online to fit the size of your window and print it out in tiles to create a template.
Want already made holiday designs (including Hannukah)? You can click here and get access to our library of pre-designed window designs, and tips how to use them!
You can use Photoshop or various free online software programs to enlarge your image to your window size. You'll want to use the dimensions of your whole window if you're doing it this way, since you want one image for each window (rather than just the dimensions of the open space in each panel). Our windows were 44" by 52", so you would want an image enlarged to those dimensions. Lay the printed tiles out and tape them together to make one large image, then cut along the outline of whatever you are silhouetting. For example, if you used an image of Santa carrying a sack of toys, you would cut around Santa and his sack, leaving out any background features so that the silhouette of Santa is clearly visible. Then you can use the cut out as a template to trace around on your material. If you're feeling more adventurous, you can skip the printing, cutting, and tracing and just go straight to sketching a silhouette of your inspiration image right on your paper or fabric. If you're using fabric, you might want to tape it down to the floor or a large table to pull it taut while you're working with it. After you outline your design, test your image placement by temporarily taping the material up on a window: will you be able to recognize your image through the louver openings in your shutters? Is Santa's face covered by the tilt rod or a divider rail? Adjust as necessary.
Step Four: Paint in the Silhouette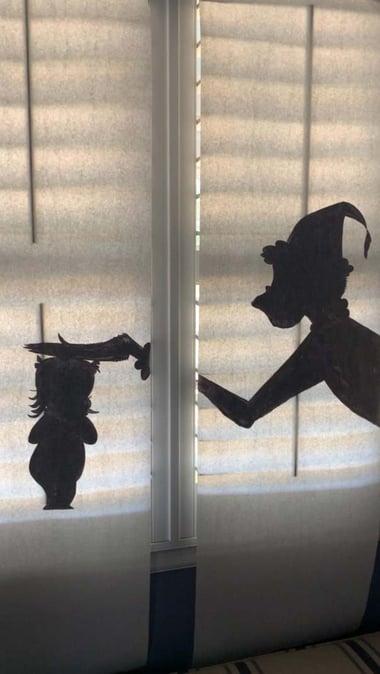 Once you have a pencil outline of your image on your paper or fabric, it's time to fill it in with a black paint that is suitable for the material you're using. Move your material to a large flat surface and make sure you protect whatever surface you're working on with a drop cloth. We used black acrylic paint on paper, but if you're using fabric, it may take some experimentation to determine the best type of paint to use that will create clean lines. Wait until the paint is fully dry before you attempt to affix the silhouette to your shutters again.
Step Five: Mount Your Silhouettes
After the paint has completely dried, mount your completed silhouettes to the inside of your interior shutters with the painted side facing out the window. Make sure the louvers are open, turn on the lights in the room, and then dash outside to check it out from your front yard. Once the sun sets, your windows will be aglow with the holiday scene taking place inside. Unlike window cling silhouettes, which are applied directly to window panes, these silhouettes are set back from your windows and behind your interior shutters, adding depth and an extra layer of magic, so that onlookers can suspend their disbelief and imagine that that really is Santa tiptoeing through your living room!

What holiday scene will you choose? If you try this craft, be sure to share the results with us on our social media channels!
Follow us and tag: Instagram | Facebook | Pinterest