Revitalize Your Space: Discover the Power of Closet Door Styles with Elizabeth Shutters
Are your closet doors stuck in the past? Outdated or dull doors can dim the shine of your beautiful home. Elizabeth Shutters is here to help you rediscover the aesthetic power of your closet doors and significantly elevate your home's interior design. We specialize in customizing three essential styles: bypass, bifold, and hinged doors.

As Benjamin Franklin said, "The doors of wisdom are never shut." And in interior design, the doors of style and quality should never be compromised. Let's delve into these styles and understand why investing in quality doors from Elizabeth Shutters is indispensable to updating your home.


Bypass Closet Doors: Sleek, Efficient, and Stylish
Bypass doors, or sliding doors, are an excellent choice for compact spaces or larger closets. This style features two or more doors that slide past each other on tracks, a design that allows easy access to your closet without intruding into your room space.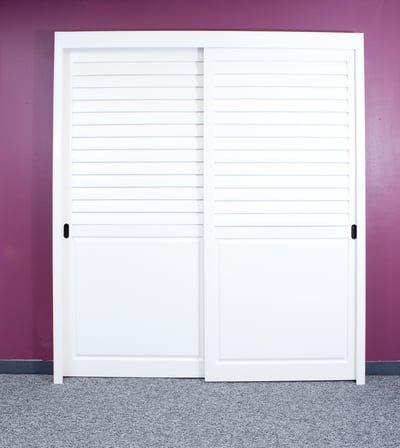 Our dedication to quality and attention to detail sets Elizabeth Shutters bypass doors apart. Our doors are easy to operate, built to last, and available in a myriad of finishes and materials. Depending on your preference, they can seamlessly blend into your room's aesthetic or make a bold design statement.

Bifold Closet Doors: Space-Saving Elegance
Bifold doors, an epitome of practical elegance, consist of two panels hinged in the middle, folding against each other when opened. Ideal for narrow spaces, these doors offer full access to your closet contents without requiring the room needed for a full swing door. We pride ourselves on our custom bifold doors' quality and adaptability. We can tailor the size, finish, and panel style to your needs, creating a unique piece that compliments your interior design and optimizing space efficiency.

Hinged Closet Doors: Classic Beauty and Versatility
Hinged doors, the classic door type, are timelessly elegant and incredibly versatile. These doors can swing in or out, making them adaptable to your room's layout and preference. With Elizabeth Shutters, you get more than just a hinged door. Our experts craft every door from durable, sound-proof materials to the highest standards. Whether you're seeking a minimalist design or an ornate, vintage-inspired look, we have the expertise to bring your vision to life.

Why Revamp Your Interior with Elizabeth Shutters?

A. Quality You Can Feel: At Elizabeth Shutters, we believe doors are more than just functional elements; they're an integral part of your home's character. That's why we use only top-grade materials and meticulous craftsmanship in every door we produce.

B. Tailored to Your Needs: We understand that every home is unique. That's why we offer customization across all our door styles, from size to finish to design details, ensuring that your new doors match your space perfectly.

C. Easy and Efficient Process: We are committed to making your door upgrade experience smooth and enjoyable. Our experts guide you through every step, from the free in-home estimate to the final installation.

D. Investment for the Future: Our doors are built to last, offering long-term value. Not only will they stand the test of time, but they'll also enhance your home's aesthetic appeal, energy efficiency, and potential resale value.

Don't let your closet doors be an afterthought in your interior design. Embrace the transformative potential of bypass, bifold, and hinged doors from Elizabeth Shutters. Your doors should reflect your style and the care you put into your home. Remember, updating your doors isn't just about a new look; it's about expressing your style, improving functionality, and investing in your home's future. Call 925-255-7778 to start your journey with Elizabeth Shutters today!