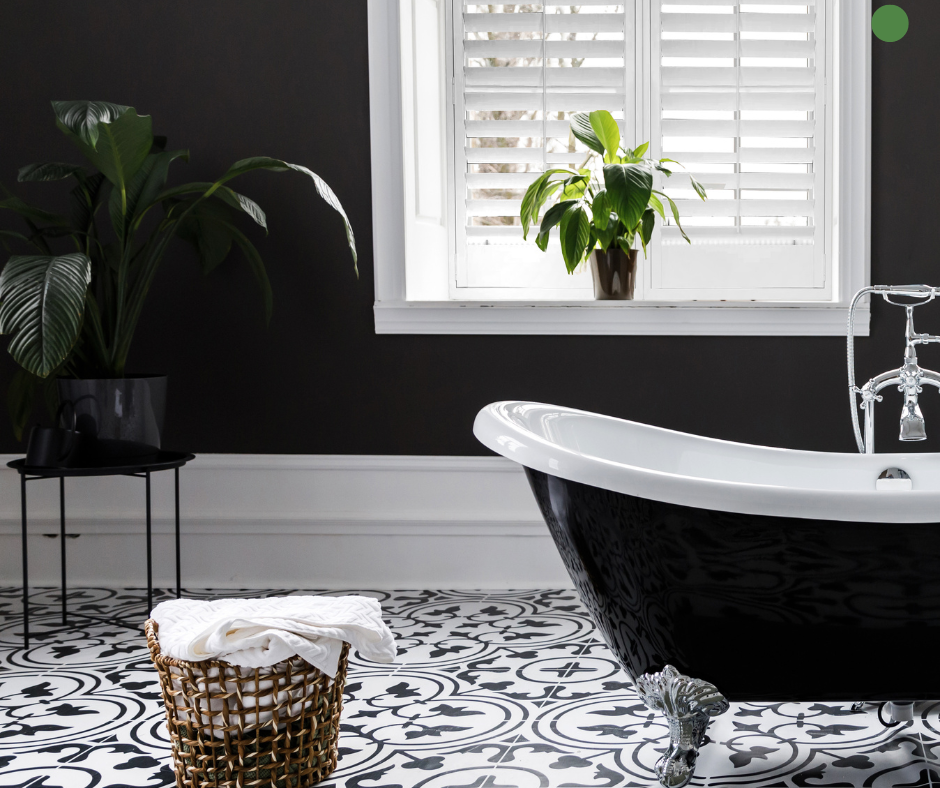 The Dilemma: Light, Privacy, and Durability—Can You Have It All?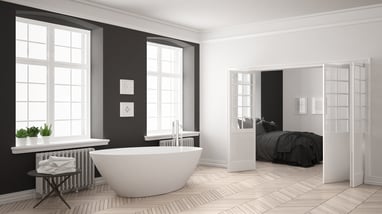 If you're blessed with a bathroom with big, picture windows or a kitchen sink with a view, you're likely familiar with the struggle of how to take advantage of all that natural light, keep your private life private, and not have to continually replace moldy curtains or cheap, pre-made blinds that don't stand up to the test of time and moisture. Particularly if you have a fabulous view from those windows, privacy films and the dated look of glass blocks are far less appealing than a solution that allows for adjustability.
Enter Custom Blinds and Interior Shutters
With slats and louvers that can be angled from fully shut to fully open and anywhere in between, you can maintain privacy, allow in light, and enjoy your views unencumbered (when you're fully clothed, we assume). How do you control for durability while accomplishing a tailored look that will survive the elements of your bathroom and kitchen? Just as Elizabeth Shutters is committed to using only the best materials in our whole-basswood interior shutters and blinds, we source and provide the highest-quality water-resistant materials available for custom window treatments in humid environments.

Everything
and

the Kitchen Sink

When you think of high-humidity spots in your home, bathrooms are usually the first rooms to come to mind. However, your kitchen can be just as humid as the bathroom, from splashy sinks to bursts of steam from the dishwasher. Window coverings near any water sources should be given the same consideration as those in the bathroom for what will endure frequently moist conditions. Although not always as high of a priority in kitchens as in bathrooms, privacy can be a factor if your kitchen sink looks out onto a busy road, for example, and you don't fancy making eye contact with every pedestrian while you do the dishes. Blinds and shutters allow you to control how much you can see out—and they can see in.

At Elizabeth Shutters, we have several recommendations for achieving style, privacy, and durability in kitchens, bathrooms, and other humid environments: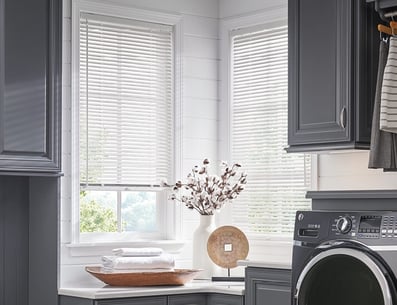 1. Aluminum Blinds
Our low-maintenance, modern aluminum blinds are customizable in color, slat size, controls, and more. Easy to clean with a dust-resistant finish, and hard-wearing with spring-tempered slats, aluminum blinds work extremely well above kitchen sinks, in mudrooms, and anywhere else that sees a lot of action and falls within the splash zone of your daily chores.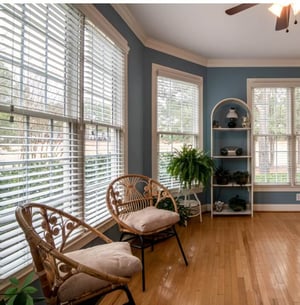 2. Softwood Blinds
For a more luxurious look, softwood blinds are also a great option for humid environments. Go cordless for a tangle-free clean look, or customize with decorative woven tapes for a unique feature that adds rich texture to your rooms. Bonus: softwood blinds are also very energy-friendly, with natural insulating properties, so you can keep your kitchen cozy year-round. Maintenance is also easy with light dusting recommended at regular intervals to keep them in tip-top condition.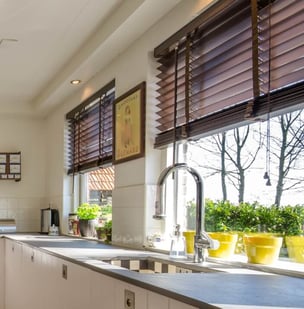 3. Vinyl Blinds and Shutters
Last but not least, vinyl faux wood blinds and interior shutters offer the ultimate in aesthetic factor with maximum durability. With gorgeous natural-hued wood grains and endless color customization options, the possibilities are infinite for getting the look of our whole-basswood products with the carefree upkeep and endurance of the best polyvinyl materials.
Whether you're outfitting a new primary bath or updating a neglected laundry room's window dressing, Elizabeth Shutters has extensive experience guiding clients like you with our white-glove design and installation process. From your first interaction with an Elizabeth Shutters consultant, we work hard so you don't have do, making your journey to new window coverings a breeze. Allow us to address all your questions, from which materials are right for your space to how to keep them looking lustrous for a lifetime. With the combination of our over-engineered, highest-quality components and our expert installation services, we ensure that all your needs, from the practical to the design-oriented, are met. Let's get started: call 1-800-748-8377 or email info@elizabethshutters.com today. We can't wait to hear from you.