How to Choose the Right Louver Sizes for Your Space
Interior shutters are a classic design choice for good reason. Sturdier and longer-lasting than blinds, more substantial than shades, and as a hand-crafted window feature built with high-quality materials, they're a solid investment in your home's long-term value. At Elizabeth Shutters, every set of interior shutters installed is made to order, with opportunities for customization at each step, from color to louver size. The size of your shutters' louvers can have a dramatic effect on the style of your home, and different sizes are suited for different styles. We'll walk you through some common considerations to help you determine the right louver size for your space.
What Are Louvers?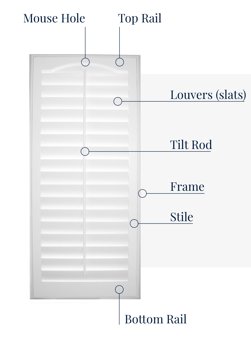 Interior shutter louvers are horizontal slats of whole basswood that can be adjusted to allow light to pass through, or to block it out. Elizabeth Shutters interior shutters can be made with louvers in four different sizes: 2.5", 3.5", 4.5", and 5.5".
2.5": Timeless Tradition
At the slimmest end of the spectrum, 2.5" louvers create a classic look and are ideal for older homes with smaller windows. When the shutters are open, the louvers take up more space in your view, adding warmth to your rooms with their comforting, traditional style. You'll be able to see less of your outdoors through 2.5" louvers, offering a sense of serene privacy. Don't be fooled into thinking small louvers are just for small homes. These louvers work beautifully on windows of all sizes and are only limited by the size limit on individual shutter panels.
3.5": Most Popular
Adding just an inch of width to your louvers opens up your views from the interior, bringing more light and a contemporary feel into your rooms. As the most popular size among Elizabeth Shutters customers, these louvers are clearly a versatile option, meshing well with a variety of interior design styles, from zen Japandi to romantic cottagecore, and with larger shutter panel sizes available, they fit a broader range of window sizes.
4.5-5.5": A Room with a View
When your living room looks out onto the Pacific Ocean or the vineyards of Temecula, you don't want much coming between you and those grand vistas. Our widest louver sizes offer you the most unobstructed views while still allowing you to make your interior shutters dreams come true. Best suited for homes with medium to large windows, interior shutters with wider louvers add a modern feel to your spaces with their clean "ladder" look.
What Louver Size Will You Choose?
No matter what your ideal interior design style is, Elizabeth Shutters' design consultants are your trusted advisors in creating the perfect interior shutters for your home. Your design consultant will consider your home's architecture, style, lighting, and exterior views in helping to guide you through the custom design process. With decades of experience and hundreds of happy customers under our belts, we understand how important it is to get your interior shutters right the first time.
Ready to get started? We can't wait to work with you. Schedule your free in-home estimate today to take the first step: call 925-255-7778 or email info@elizabethshutters.com.