Shake Up Your Space: The Magic of Bypass Doors
Does your home interior need a facelift? Are you seeking ways to modernize your space without undertaking an expensive, time-consuming renovation? The answer lies within an unexpected home feature – your closet doors. Elizabeth Shutters is here to guide you through the transformational power of Shaker bypass closet doors, a surprisingly simple and affordable way to update your home while optimizing your space.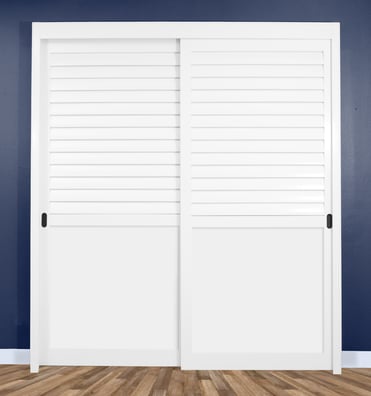 The Impact of Updating Your Closet Doors
Closet doors, often overlooked in home renovations, play a crucial role in your interior design. Not only do they conceal your storage spaces, but they also add to your home's aesthetic. An update can bring a fresh look and functionality, ultimately adding value to your property.
Why Choose Shaker Bypass Doors?
Shaker bypass doors blend the charm of the Shaker-style's clean lines and the practicality of bypass door functionality. Ideal for smaller rooms or spaces with large closets, these doors slide past each other on tracks, saving space that swinging doors would otherwise occupy. They offer a modern look while still fitting into a variety of interiors.
The magic of Shaker bypass doors lies in their simplicity. The design's elegance rests in the classic, flat-paneled look known to Shaker style. This minimalist appeal offers a canvas for customization - whether you prefer a natural wood finish or a bold, standout color, the choice is yours.
Adding Value to Your Home with Quality Doors
Investing in Elizabeth Shutters' custom closet doors does more than improve aesthetics. It's an investment that boosts your home's value. Potential home buyers appreciate updated, stylish interiors, and quality closet doors can significantly contribute to that impression.
Our Shaker bypass doors are not only pleasing to the eye but also built to last, thanks to our dedication to top-grade materials and meticulous craftsmanship. The blend of durability and design makes these doors a worthwhile addition to your home.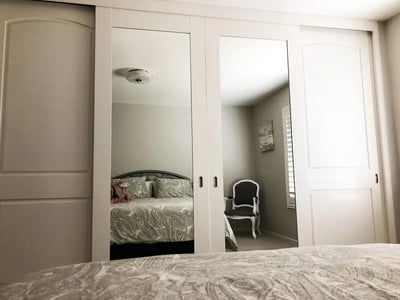 Updating Your Home - Easier Than You Think
Revamping your home's look doesn't always mean embarking on a major renovation project. Sometimes, all it takes is updating certain elements, like your closet doors. With Elizabeth Shutters, the process is seamless. From a free in-home estimate to the final installation, our experts will guide you every step of the way.
By choosing our Shaker bypass closet doors, you opt for a design that embodies style, space-efficiency, and modernity. It's an easy and affordable update, but its impact on your home's aesthetics and value is significant.
Your home should reflect your taste and the care you put into it. When it's time to modernize and optimize your space, don't overlook the power of quality closet doors. Experience the transformational power of Shaker bypass doors and elevate your home's style with Elizabeth Shutters.
Ready to shake up your space with our custom Shaker bypass doors? Call us at 925-255-7778 and let's start your journey to a stylishly updated home today.