How to Update Dated Interior Doors
Dated, dingy, and hollow interior doors can be a major design detractor in older houses. But it only takes a quick scan of Pinterest inspiration posts around "interior doors" to see that upgrading yours could make a huge difference in your home's design. From classic clean lines to bold statement colors, customizing your interior doors offers you an incredible opportunity to add long-lasting style and quality you can feel every time you leave one room and enter another. Upgrading your interior doors with Elizabeth Shutters is not only a wise investment, it's an easy process.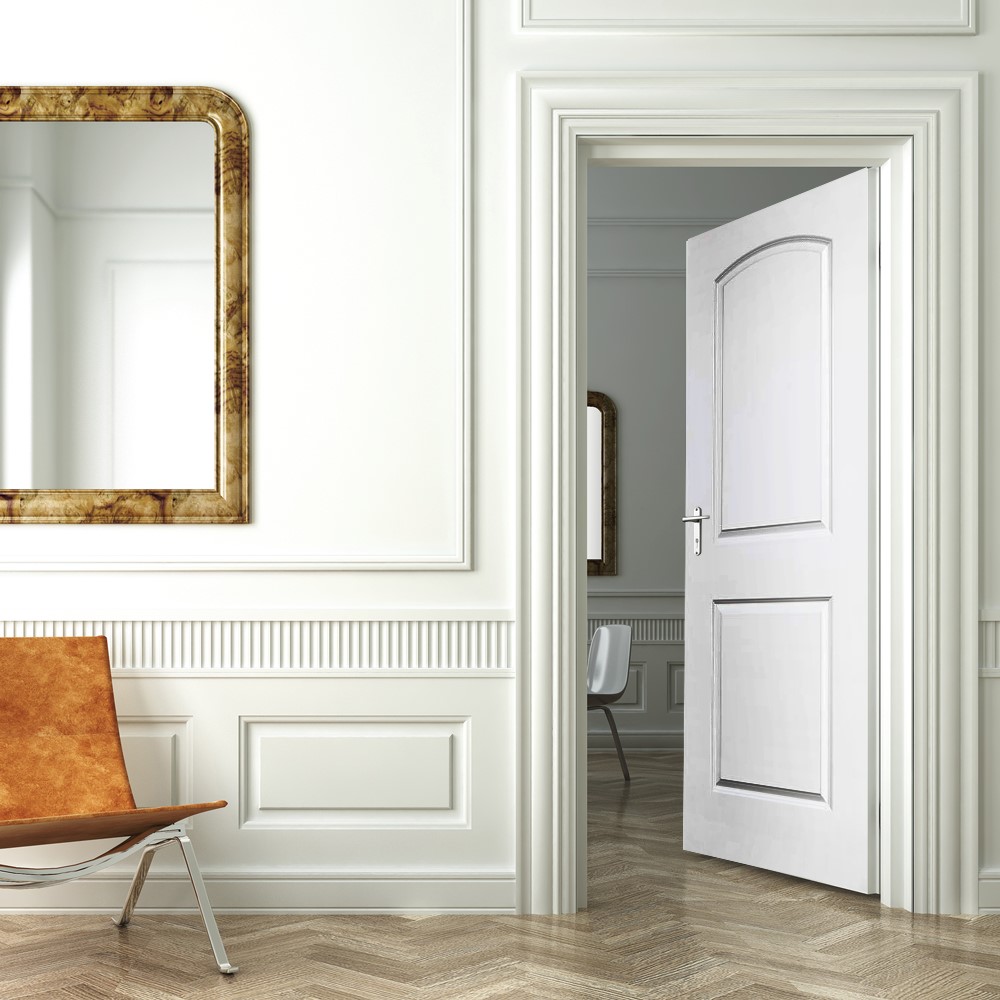 What's Your Door Vibe?
Are you into modern minimalist styles or do you want something that feels original to a house built a century ago? How many panels look just right in your rooms? Do you want a warm natural wood finish or a trendy accent color to contrast with your walls? If you're not sure what interior door design you want yet, take some time poking around the internet and browsing your favorite design magazines to find inspiration—we love planning a room with a Pinterest board (learn how here)! At Elizabeth Shutters, we've developed five basic door styles that can be customized for a nearly limitless variety of interior doors built to last for a lifetime.
Interior Door Design Elements
Before we go over the five Elizabeth Shutters interior door styles, let's do a quick overview of the various elements of interior door design:
Panels - Panel can refer both to the entire door slab that swings open and closed, and it is also used to describe the smaller rectangular segments that a door panel is typically divided into. Panels are set between the stiles, rails, and mullions, and they can be flat or raised.
Rails - The narrow horizontal segments of a door panel are called rails. Depending on how many panels the door has, there can be a top rail, a bottom rail, and one or more mid-rails.
Stiles - The narrow vertical segments on either side of the door are stiles. The one that is on the side of the door attached to the side jamb is called the hinge stile, and the one on the edge where the handle and lock are located is known as the lock stile.
Mullion - A mullion is the vertical segment separating panels in the middle of the door between rails. It's like a stile but in the middle of the door instead of on either edge.
Hinge - Hinges are the pieces of hardware attaching the door to the door jamb, which allow the door to swing back and forth. The number of hinges can vary depending on door size, and the color usually matches the finish of the handle and lock hardware.
Escutcheon - Escutcheons are decorative plates around door handles or keyholes.
Hollow Core - Hollow core doors are made by wrapping a veneer or fiberboard exterior over a honeycomb cardboard interior. They're not technically completely hollow with that cardboard honeycomb core, but they feel much lighter than solid core doors and are not as durable or as effective at dampening noise.
Solid Core - Solid core doors are usually made by wrapping a wood veneer exterior over a mix of wood and synthetic wood composites. That solid core gives these doors greater heft and excellent durability, they reduce sound transmission much better, and they help make your home more energy efficient.
Panel Sticking - The decorative molding that outlines panels in a door is called sticking and can come in a variety of styles, from simple, like Shaker square, to ornate, like ovolo.
The 5 Interior Door Styles
Monterey
The versatile and refined Monterey door is a 6-panel design with a smooth surface that fits perfectly in timeless homes with traditional designs. No matter when your home was built, the Monterey can bring stately charm to your halls.
Berkeley
Two squared panels keep the Berkeley's look clean while ovolo sticking adds a little visual interest. The Berkeley door fits into elegant interiors with aplomb.
La Jolla Coastal
With a curved top panel that echoes the coastal curves of La Jolla and a woodgrain-textured surface adding a touch of natural warmth, the La Jolla door is perfect for sophisticated California-style homes.
Sonoma
Three-dimensional molding and an arched top panel add depth to the Sonoma door, bringing a classic look that supports any design scheme.
Napa
Flat panels and crisp Shaker square sticking make the Napa door a natural fit for modern farmhouse-style homes. Sometimes the simplest design is the most elegant choice.
How to Get New Interior Doors in Your Home
Ready to get the interior doors of your dreams into your home now? When you work with the experts at Elizabeth Shutters, the process is easy as 1-2-3:
Step 1: Schedule a Free In-Home Estimate
An experience Elizabeth Shutters design consultant will visit your home to discuss your design goals, take precise measurements, show you samples, and give you tailored recommendations on how best to achieve your desired look.
Step 2: Place a Deposit to Order Your Doors
Once you've settled on the perfect style for your interior doors, you will place a deposit to begin the production process. Production timelines can vary depending on quantity, size, and style; your Elizabeth Shutters design consultant will advise you on what to expect for your project. No matter what the lead time is, you can rest assured that your interior doors will be built to last and look beautiful for a lifetime.
Step 3: Schedule Installation
Your Elizabeth Shutters design consultant will contact you approximately two weeks before we anticipate your doors will be ready to schedule the installation. Once your new doors are in place, our installer will walk through your home with you to verify that everything has been completed to your satisfaction. After you sign off on a job well done, the remainder of your balance is due, and your interior doors are yours to enjoy for years to come.
Don't Renovate - Update!
Home renovation projects can be time-consuming, expensive, and stressful. But making a simple and relatively low-cost update to one feature of your home, like the doors inside your house, can make a huge impact on your interior design without breaking the bank. Swap out the tired hollow core big box doors for solid core custom Elizabeth Shutters interior doors that add privacy, energy efficiency, and beauty to your home.
Ready to update your home with Elizabeth Shutters' interior doors? Call 925-255-7778 to start your journey with Elizabeth Shutters today!